Unlocked BlackBerry Storms are being shunned by T-Mobile?
This article contains unofficial information.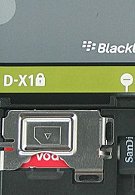 You've got to love the advantages that come with global enabled BlackBerry smartphones that Verizon offers as it works on both CDMA and GSM networks. However, T-Mobile customers who sport either of the two BlackBerry Storm handsets are experiencing some technical difficulties with them working properly with the carrier's network. Owners are reporting that these unlocked Storm models are not getting any data service while a quick call to T-Mobile's customer service just results in the customary "your device is not supported" response. Up until recently, it looks as though there were no issues regarding using the unlocked handsets on T-Mobile's network. Although there is no exact reasoning as to where the problem lies, Storm owners will have to reassess some of their options now that data doesn't seem to be working – which is obviously the heart and soul of users. In addition, there is no indication if it's something specific that's related to the Storm handsets or if other BlackBerry handsets like the 8800, Tour 9630, or Bold 9650 are affected as well.
RIM BlackBerry Storm 9530 Specifications
|
Review
RIM BlackBerry Storm2 9550 Specifications
|
Review
source:
CrackBerry