Unboxing Samsung Juke for Verizon
6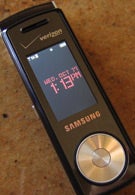 The Samsung Juke U470 is the first of the four "Next Phones" that Verizon Wireless will be pushing this holiday season, and is available in three color choices: Teal, Blue, and Red.
We received the Blue Juke today, before the national release date ofOctober 19. The phone has been available for PreOrder on-line over thepast week for $99.
The Juke is unique that it is a swivel phone, with the display rotating 180 degrees.When the phone is closed, it measures 3.82"H x 1.18"W x 0.83"D, but when opened the height is 6.25".
We consider the Juke a Music Player 1st, and a Phone 2nd. This is because it comes with 2GB of Internal Memory, which allows music files to be copied directly from your PC to the phone using the included USB Data Cable. You can access the Music Player with the phone closed, and there are a wide variety of options, including Skins, Equalizer, 3D Sound, and Playlists. Audio can playback through the speaker on the rear, through the included 2.5mm stereo
earbuds
, or by using Bluetooth Stereo speakers.
As a phone, you are limited by the small 128x220
pixel
Display, below-average call quality, and narrow keypad. Also, the Juke does not support EVDO, which means data is limited to 1x speed. Get-it-now applications are available for download, such as VZ Navigator, Games, and Ringtones, but Mobile Web and VCast is not supported.
Please check back for our in-depth Review of the Samsung Juke.