The Trippy Clip Pryzm clip-on lens turns ordinary photos into psychedelic rock cover-art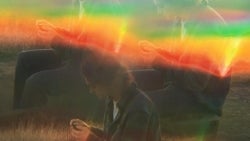 Clip-on lens attachments are an easy and affordable way to experiment with your smartphone's camera and make it do things that may not always be possible with software. And Pryzm Lens has a clever idea about its – by applying artful lens distortion to any smartphone's
camera
, interesting creative results can be obtained.
In this case, the outcome looks downright trippy, ready for instant psychedelic rock cover art. With the Trippy Clip Pryzm lens, you will be seeing scenes from life in ways not possible even with strong mind-altering substances. Thankfully, no LSD is needed, and the experience can be shared right onto social media in its full glory.
Check out the sample photos to get a taste of what this clip-on attachment is capable of doing, and tell us what you think! The Trippy Clip Pryzm Lens costs $30 and can be ordered from the manufacturer's website.
source:
Pryzm Lab
via
Trend Hunter