Thanksgiving and Black Friday saw record online sales, 24.2% from mobile
7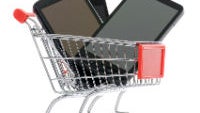 As you might expect, people often don't want to be put at risk of bodily injury in order to get good deals on consumer goods, which has led to more and more sales coming online each year on Thanksgiving and Black Friday. 2013 has been no different as Thanksgiving and Black Friday saw record online sales, and a substantial number of those sales came on mobile devices. According to Adobe Digital Index 2013 online shopping data, Thanksgiving Day and Black Friday saw online sales of $1.06 billion and $1.93 billion respectively. This marked an increase of 18% year-over-year for Thanksgiving, and over 30% year-over-year for Black Friday.
Impressively, mobile devices accounted for almost 25% of all online sales. The data showed that 24.2% of online sales came from mobile devices, with 15.6% coming from tablets and 8.6% from smartphones. If you drill down even further in the data, you'll see that iOS devices generated more sales by far compared to Android and other mobile platforms.
If you were to do the math, mobile devices accounted for approximately $723.6 million of the $2.99 billion in online sales for the two days. In that time, iOS devices generated $543 million in sales, while Android accounted for just $148 million. Together that is $691 million, leaving just $32.6 million in sales for Windows, BlackBerry, and the other mobile platforms. Specifically the iPad was where the most mobile shopping was done, with $417 million in online sales coming on Apple's tablets.
Not surprisingly, the most online shopping was done in regions of the U.S. where proper shopping areas are few and far between, with the biggest regions for online shopping being: Vermont, Wyoming, South Dakota, North Dakota, Alaska, and Montana. Of course, not all of the mobile sales were done from the comfort of home. More and more sales came from customers who were in physical stores and comparing deals across retailers. And, a big part of the equation that can't really be seen in the data is how many customers may have used mobile devices to force price matching based on deals offered elsewhere (which is one of our favorite things to do in Best Buy).
These numbers don't quite match what
IBM has reported
, but the general trend of mobile purchases being done on predominantly on iPads does hold.