T-Mobile could sell 3.4 million iPhones this year
38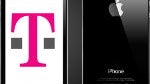 T-Mobile is the final major carrier to get its hands on the official Apple iPhone, and will begin selling the device in just a couple weeks. T-Mobile announced this a few days ago, and today the analysts are already coming out of the woodwork to start placing bets on how many iPhones will be sold through T-Mobile over the rest of 2013.
According to analyst Horace Dediu from Asymco, T-Mobile could sell 3.4 million iPhones this year, which would make the iPhone about 10% of T-Mobile's user base (presumably this percentage doesn't include
the 2 million iPhones
already on the network). Dediu came to this conclusion by looking at the performance of the iPhone as a percentage of the user base when it was first launched on each of the other three major US carriers.
The same estimates also came out with predictions that Apple will sell 53 million iPhones on the big four US carriers in 2013, which would make up about 17% of the total 320 subscriptions. That's a pretty impressive number of subscriptions considering there are only around 326 million people in the US (US Census Bureau estimates 314 million people plus an estimated 12 million undocumented residents).