T-Mobile & Palm in the "final stages" of launching a webOS device?
3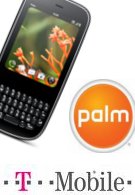 Palm looks like they're taking the last steps in getting their webOS powered devices into the stores of all the major wireless providers in the country. We've already heard
news
back during CES about AT&T landing some webOS devices in the near future, but now there is word that T-Mobile is about to be graced with Palm's blessings. The market as it stands right now is pretty competitive when you look at what's around – it's a clear cut indication to branch out to as many partners as possible to get ahead in the smartphone platform race. According to one of BGR's connections, T-Mobile is now in the "final stages" of planning out their webOS handset launch with Palm. From the looks of it, they're going to attack the lower end of the spectrum by making available a Palm Pixi-like handset at first. By making this move, it'll put Palm in a better situation with their platform clearly having visible space among all of the major carriers – it'll only strengthen them as yet another new platform is expected to be unleashed by Microsoft. Still, they have to duke it out with all the others that are currently available – so this moves bodes well for them; that's unless they really stutter in providing great hardware to supplement their platform.
source:
BGR