Swiftkey already at work on iOS 8 keyboard app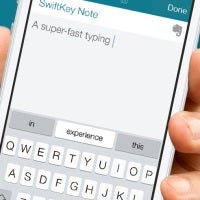 Did you hear? Apple finally caved in and opened up support for 3rd-party keyboard replacements in iOS 8. It's hardly a surprise, then, that Swiftkey's Jon Reynolds and Ben Medlock confirmed the company is already at work on Swiftkey for iOS 8. The two are "
delighted
" that Apple has finally opened up its mobile platform for 3rd party keyboard replacements. The company is looking forward to adding iOS users to its 200 million user-base.
Swiftkey has already made its advances towards iOS by stealthily including its typing technology in the note-taking app Swiftkey Note. It seems the next step is bringing the whole package over to the newly liberated iOS 8. It should be a given that Swift's competitors, such as Swype, SlideIT, and Fleksy, will be directing their efforts towards Apple devices soon.
source:
Pocket-lint