Startup Prieto looking to supercharge your smartphone battery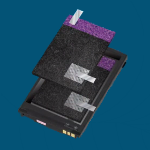 Last week, we heard about research that could
increase battery life
in mobile devices by 2-3 times what is currently the standard, but what if your batter could not only last
5 times longer, but could charge in just 5 minutes
? Startup Prieto is looking to do just that, and has pulled funding to make it a reality.
The company was founded by Amy Prieto, a chemistry professor at Colorado State, and was the first startup to come from the university's Cenergy program, which was designed to make clean energy research commercially viable. Prieto is in the process of gathering $6.8 million in funding and has already raised over $5.5 million.
The way the battery works by using copper nanowires to create a solid state lithium-ion battery, rather than the traditional liquid electrolyte, which is where the energy is harvested in a battery. The nanowires would create more surface area, and be built in 3D to further increase area to boost the battery capacity, run life, and make for faster charge times.
It's still in development, but if it can come through it would be a pretty big bump in battery technology, which is the biggest bottleneck in technological innovation. Making better screens and more powerful devices doesn't matter too much if you constantly are running out of juice.