Sprint providing the backbone of the Skiff Reader
2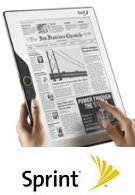 Sprint's camp has been on the quiet side so far in the last days before the Consumer Electronics Show is scheduled to commence in Las Vegas. Start-up company, Skiff, has joined forces with Sprint for their Skiff Reader which will be previewed at CES. Sprint plans on leveraging their expertise into the Skiff Reader, which aims to be the world's thinnest e-reader when it's released, by providing the backbone support for wireless service – additionally it'll be the first time a wireless provider will begin selling an e-reader in stores and online. Gil Fuchsberg, president of Skiff, states that "We've got some things that we can do that you've never been able to do on e-ink screens before."
Not only will it be a standalone e-reader, Skiff will offer a one-click store selling newspapers, magazines, and books that works on other reading devices and smartphones. Fuchsberg goes on to say "We think there'll be a market for dedicated readers alongside applications on your phone or tablet PCs." Despite it being launched with a black and white screen at first, color models will be developed aggressively over the course of the coming year.
No pricing has been revealed for the Skiff, but "it will be competitively priced" according to Fuchsberg. From a design point, the Skiff will be the thinnest e-reader to date with a 1200 x 1600
pixel
display at 11.5" in size – compare that to the Amazon Kindle's 600 x 900 pixel display. Yet another gamble from a wireless carrier, but hopefully it'll turn up positive for the number three provider.
source:
NY Times