Six years of App Store and 100 billion app downloads later, it's safe to say Apple made a game changer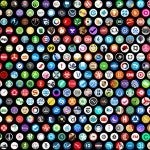 100 billion! Boy, that's quite a figure. Seriously, can you imagine 100 billion of anything? 100 billion dollars? 100 billion people in a room? On second thought, don't try. Human imagination doesn't stretch as far. The App Store, though? Yeah, it pretty much topped 100 billion app downloads over the course of its existence! According to the juicy stats that Apple presented at the WWDC, this boils down to 850 app downloads per second, and a whole lot of apps for each Internet user that's also an Apple device owner.
Considering the App Store is just 6 years young, this 100 billion figure is impressive and quite mind-blowing. It is illustrative of how the iPhone's launch and the App Store that followed went on to change the world. Today, some of you can hardly imagine going about their daily life without their favorite apps. Apps are so ubiquitous nowadays, it's hard to remember the time when they were not around - and that time was not that long ago. Congratulations, Apple - the App Store is a game changer!