Severed lets you chop off enemies' limbs and use them against them... in style
3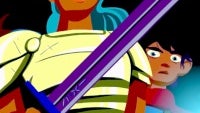 Severed is an upcoming game fromDrinkBox Studios (maker of Guacamelee!), which puts a highly stylizedspin on the "cut things up" genre, best exemplified byFruit Ninja. In Severed, you play a warrior who lost an arm in afight. Understandably, you are a very angry warrior, and an impairedone since you're missing a limb. Which explains why you're feelingcompelled to hack enemies to pieces, steal their arms (and otherlimbs), and use them against them. While this premise is especiallygruesome, DrinkBox has managed to turn it into fine art. The game hasa colorful and unconventional art style, reminiscent of the SamuraiJack animated show. It also boasts an intense soundtrack which roundsout the somewhat psychedelic atmosphere.
Instead of being linear, Severed willexpect you to thread different parts of the world and collect limbswith specific powers to help you combat the game's various enemiesand bosses. This means that you might face an unbeatable enemy andhave to take a step back, fight a lesser foe, and use his limbsagainst the boss. As the game is made for touchscreens, controls are entirely gesture-based, with combat similar to the well known Infinity Blade - you know, swipe and strike. Severed's enemies will have specific weak spots and "slicing patterns", so to speak, which will require different strategies. Also, the player can facing only one direction at a time, but enemies could come from all angles. It will be interesting to see how this will work out.
At least on trailer (see below), Severed looks likea wild ride. Unfortunately, it will be a while before we'll get toplay it. The game will be out sometime next year for smartphones,tablets, and possibly hand-held consoles.
via Toucharcade