Several Apple services experiencing outages – iCloud, iMessage, more
25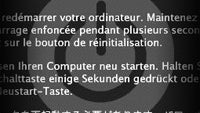 We're not sure if it's the heat wave in the east affecting a data center, the wave of Windows 8 news taking over the web, or something completely unrelated, but several Apple services have just gone down.
iCloud went down about an hour ago. Apple's official system status page states that as of 10:45 PDT, users may be unable to access iCloud services. There have also been reports of intermittent issues with iMessage, the developer portal websites, and the iTunes store.
No word yet on the official cause, how widespread the issue is, or an eta on a fix, but we will be sure to keep you updated as the story develops.
Update:
Apple has updated the iCloud status page to say "Normal services will be restored ASAP." It now details "Users Affected" as "Some."
Update 2:
According to Apple, as of 1:06 Pacific / 4:06 Eastern, all service has been restored.