Samsung spends $300 million on a new HQ located in Silicon Valley
46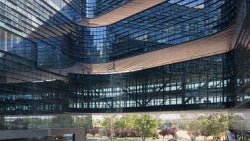 As most of you already know, Samsung is a tech giant based in South Korea. However, the company has close connections with numerous companies which are based in the US, most of them straight from Silicon Valley.
With Google, Apple, and many other partners and rivals boasting impressive headquarters in the area, Samsung decided that it's time to spend $300 million on a new HQ located in San Jose, California, the very "Capital of Silicon Valley".
Samsung's new Silicon Valley HQ is a ten story complex with a total space of 1.1 million square feet. Aside from its impressive architectural design (subjective impression), the main attractions of the complex include a "fitness center in the sky" and a clean room for semiconductor design. Samsung's new building will serve as the company's North American headquarters for its semiconductor branch, but the complex will also serve as basis for some of Samsung's marketing and sales operations in the United States.
NBBJ, the architecture company that scored the contract, has already completed 85% percent of its work, with the only remaining tasks relating to interiors and landscaping. At the moment, Samsung has yet to announce how many employees will go to work at the new complex.