Samsung Galaxy A7 confirmed with a 64-bit processor and 1080p display
51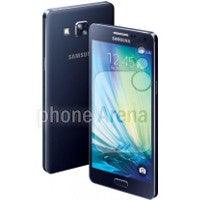 Speculation surrounding a supposed new Samsung line of devices that will call the
Galaxy Alpha
its forefather is at an all-time high thanks to a very significant body of rumors and leaks. And now, Samsung's own website has passed on a few more clues as to the innards of one of the line's members -- the Galaxy A7.
As we've discussed previously, the Galaxy A7 is expected to launch with a 5.5-inch display, making it the biggest of the suggested trio (plus the 4.5-inch Galaxy A3 and 5-inch Galaxy A5). Thanks to a user agent profile of a device codenamed SM-A700FD (or Galaxy A7) we now also know that the rumors were true and that the screen's resolution will sit at 1080 x 1920, or a density of 401 pixels per inch. What's more, we've also got another confirmation -- the 1.5GHz chipset powering the A7 is based on ARMv8-A architecture, meaning that we're looking at a 64-bit processor (Snapdragon 410?). From what we know so far, the entire A family will hit the market with Android 4.4 KitKat in tow, so the 64-bit part will stay irrelevant for a while -- at least until these devices get an update to Android 5.0 Lollipop, which is the first version of Google's mobile platform to make actual use of the newer architecture.
Lastly, rumors have so far suggested that the Samsung Galaxy A7 won't be particularly cheap, and will sport a mid-range price of anywhere between $450 and $500. From our experience, depending on the rest of the specs, that tag will either make or break the A7.
Images below are of the Galaxy A3 and A5,

not the A7,

but we expect it to be similarly-styled in terms of its design.