Samsung Direct bundles Galaxy Nexus with extended battery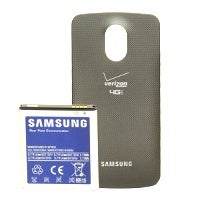 The Samsung Galaxy Nexus has a pretty capable 1850mAh battery, but when it comes to productivity and 4G LTE, one would always take a bigger battery and that's what Samsung is offering now. The Galaxy Nexus now comes with a
free 2100mAh extended-life battery and a back cover
designed for it, if you purchase it via Samsung Direct. The Galaxy Nexus i515 Battery Bundle Kit comes with a two-year contract activation.
This is a six-week promo that kicked off on March 29th and will run through May 10th, or while supplies last.
Samsung Direct sells the Galaxy Nexus for $299.99 on a 2-year contract, or the whopping $799.99 without the contract ties.
The extended battery is definitely something we would like to see on the Galaxy Nexus, but comparing the $299.99 price on Samsung Direct to the $99.99 price of the same Verizon-bound Galaxy Nexus on Amazon, it looks like you'd be better off looking for deals elsewhere.