Reggie Watts shows off the amazing beats you can make with Keezy
1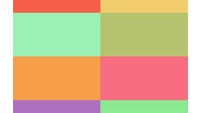 There have been a number of apps for mobile that have been a boon to amateur and professional musicians, but as is the unofficial motto of app stores: there can always be more. Keezy is a new app that wants to make it easy to loop and mix a quick tune using only your iPhone; and, Keezy has brought in comedian and musician Reggie Watts to help show you what you can do.
Keezy is a very minimalist in its look with just 8 colored buttons. That's it. Each button allows you to record a loop, which you can then mix together into your own masterpiece. If need be you can also delete or undo individual tracks if you want. Apparently, in the beta for the app the biggest users have been musicians (obviously), but also children. It seems that kids like to just yell or make rude noises into the app and mix those together.
Keezy has a solid pedigree as well. The app is made by Elepath which is the app development outfit started by Vimeo founder Jake Lodwick. Elepath is also behind one of the better bucketlist to-do apps for iOS, Thinglist. So, you know that Keezy has talented developers behind it.
Download:
Keezy
(iOS only)
Recommended Stories