Quick stats from WWDC: Apple's ecosystem is still going strong with a 2 million app catalog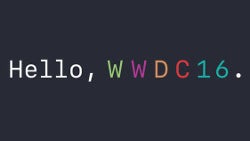 Apple's WWDC 2016 keynote is already ongoing. After a solemn minute of silence to commemorate the many lives lost just yesterday in Orlando, Apple top poncho Tim Cook transitioned to business.
The 27th WWDC since its conception in 1983, the event has been the focal point for developers with Apple's platform(s) to all get together, network, enjoy the keynote, and even learn from the hundreds of company engineers on site. With its developer-centric nature in mind, Tim Cook wasted no time highlighting major milestones for Apple's ecosystem:
13 million developers have already enrolled into Apple's Developer Program
2 million of the above-mentioned developers joined in the past year; a massive spike
Developers from across 74 countries are attending WWDC
More specifically to the App Store:
Started 8 years ago with 500 apps
Now offers over 2 million apps (a draw with Google's Play Store)
130 billion apps have been downloaded, or over 16 billion a year
Apple has paid out over $50bn in royalties to developers
That last part, in particular, is a big reason why developers the world over continue to favor iOS over Android, despite the latter's numbers dominance. For the most part, Android users are much less likely to spend money on apps and/or digital goods.
Stay tuned for more coverage straight from WWDC!