Poll: What is the perfect smartphone display size for you?
42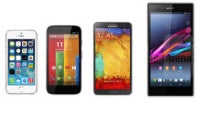 Ever been asked by a family member for a smartphone recommendation? If yes, then the chances are that you, in turn, started asking questions so that you can narrow down the list of possible suggestions, and one of them almost assuredly had to do with display size.
Indeed, the diagonal of the touchscreen glass is among the most important criteria people set when shopping for a new smartphone, and that makes a lot of sense. Do you want to lug around a true phablet-sized monster that can essentially double up as an on-the-go media hub, or are you more comfortable with a sub 5-incher that fits in your jeans' pockets? Let us know by voting for the screen size bracket that you find closest to optimal!