Play music & charge your phone on the go with the OnBeat Solar Headphones
1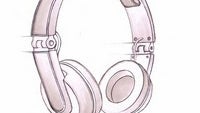 On with the beat we go with this Kickstarter project – the
OnBeat Solar Headphones
. As the name implies, there is a solar panel on the band of the headphones, allowing it to capture sunlight and transform it into energy, which is then stored in two light-weight Lithium Ion batteries. Pretty much any USB device can be charged with the reserved energy source, yet it is not certain how much juice you'll get from the OnBeat.
Let's get technical. The solar cell's surface is 55 cm
3
, which is expected to be gathering those sun rays during your daily jog, a walk through the park or just cruising to work. According to the developers,
musical quality will be first-class:
"
a superb sound from low range for bass, mid-range for precision DJ'ing and high range for vocal and acoustic excellence
". Here's a listing of some of the parameters:
About the headphones audio?
Audio driver unit size: 40mm
Impedance: 32 +/- 10% Ohm
Frequency response: 20hz to 20,000Khz
Sensitivity: 100 +/- 3 dB
The solar specification?
High powered flexible solar panel (poly-crystalline silicone)
55cm3 active solar area
Two Li-Ion batteries (1000mAh)
Provide a full battery recharge for mobile phone
5.5v charge capacity
What's in the box?
OnBeat solar headphones
1.5m audio cable with integrated remote (including usb cable clip)
6.3mm stereo plug converter
Protective carry pouch
Product booklet
Some would say that those will be useless on rainy days. Well, think twice, because the
OnBeat can be charged via USB from your PC or straight from the mains socket
. Also, no more pulling out your phone to raise the volume for that awesome track – the headphones have
a volume rocker integrated into them
.
Design-wise the headphones look pretty slick. If you are one of the Kickstarter pledgers you'll get the limited Green edition. Speaking of Kickstarter,
the project's aimed goal is $298,000, and a single pair is supposed to have a retail price of $175
. Check out the introduction of the OnBeat with this Scottish-accent driven video:
The funding period ends on August 7, so if you like the idea behind the OnBeat, make sure you hit that "Back This Project" button.
source:
Kickstarter
via
TechCrunch