New iPad launching in 21 additional countries this month
17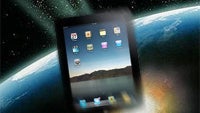 While it may not exactly be new to those who reside in the 35 countries that the new iPad has been released in, there are still a handful of places around the world that aren't privy to Apple's third-generation tablet.
Today Apple announced that the new iPad would debut in 21 additional countries this month. On Friday, April 20th, the new iPad will be released in South Korea, Brunei, Croatia, Cyprus, Dominican Republic, El Salvador, Guatemala, Malaysia, Panama, St Maarten, Uruguay, and Venezuela.
On April 27th, the new iPad will be available in Colombia, Estonia, India, Israel, Latvia, Lithuania, Montenegro, South Africa, and Thailand.
The new iPad will be available in black or white and both the Wi-Fi and Wi-Fi + 4G models will maintain the same pricing as seen in the states. The iPad 2's price will also be reduced to $399 in these locations.
source:
BGR