Motorola announces 6 new, affordable handsets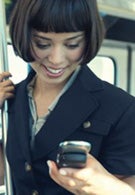 Of course, most of us have their eyes and minds fixed on the mysterious iPhone that was recently found on the floor of a otherwise pretty inconspicuous pub and that, we believe, will probably prove to be none other but the dreamed, next iteration of Apple's famous handset. However, this does not mean the world should or will stop until more details about said device surface on the Web. All manufacturers have their own plans set in
motion
and nobody is standing idly by. Today's announcement of not just one, but six new cell phones by Motorola makes for an illustrative example. All of them are entry-level handsets aimed at people getting along on a shoestring, who need a device for calls, texts and music. Meet the Motorola MOTO WX161, MOTO WX181, MOTO WX260, MOTO WX265, MOTO WX290 and MOTO WX295.
As their names suggest, the former two, the
WX161
and
WX181
are the most basic in the pack - classic candybars equipped with
1.3
-inch and 1.5-inch displays respectively, as well as LED torch-light and FM radio with RDS.
The Motorola
MOTO WX260
and
WX265
are nearly identical, with the only difference being the WX265 is a clamshell, while the WX260 is yet another classic candybar. Both devices sport Bluetooth 2.0, WAP browser, FM radio with RDS, audio player and microSD expansion slot that takes cards with capacity of up to 2GB.
The latter two, the
MOTO WX290
and
MOTO WX295
, seem the poshest of the six... at least in terms of specifications. They come with 1.8-inch screen, built-in camera, MMS capabilities, LED torch-light, Bluetooth 2.0, WAP 2.0 browser and FM radio with RDS.
At least at the time being, Motorola refuses to provide information on the pricing of the new affordable handsets and there is not even a single picture of any of them. Of course, we will publish images the minute we get our hands on any.
source:
Motorola