Motorola Maxx VE's keyboard under question
This article contains unofficial information.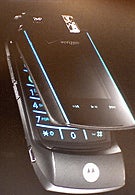 It is still not sure what the final design of the Verizon's version of the Motorola maxx Ve will be, as there are rather contradictory images coming from various sources. First, it was the FCC external images document for the phone supported by
live hands-on photos from Boy Genius
, that show the Maxx VE with keypad which doesn't look anything like previous Motorola models.
The official Verizon manual of the device and a few promo images, show different keypad with straight lines, similar to the original GSM MAXX and the KRZRs.
CoreyTheGent at HowardForums
showed the image here.
What will the Ve look like, when it finally comes out? We will wait and see in near future. Meanwhile, check the
preliminary specifications of the Motorola maxx Ve for Verizon Wireless
Update: 7 Feb, 2007

We got information that there is Motorola maxx Ve

official

promo page withsome images. It shows the "standard" KRZR-like keyboard and so - weguess this will be the final design, which will launch commercially.The page just notes that the external display is 1.7", which is just HUGE.
via
thepump

//Update