Morph'em 3D puzzle game now available on the BlackBerry Q10 and Q5
1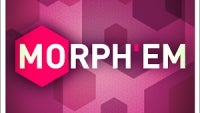 On the BlackBerry side, the popular 3D puzzle game Morph'em (also on Android and iOS) was available only on the all-touch Z10 and Z30. Now, owners of the QWERTY-enabled Q10 and Q5 can enjoy it. In Morph'em, the player rotates a 3D cube, dragging a finger along its surface to create words.
The game contains bonus words, three power-ups, 55 unlockable trophies, and various customization options - 23 color themes, hundreds of avatar icons, and more. It also has a multiplayer component that lets you play against online opponents.
Morph'em is a free and fully featured game that anyone looking for a good mind workout could appreciate. Check out its trailer, if you aren't familiar with it, and head to BlackBerry World from the link below, if you're hooked.