Microsoft aims at businesses with new update for the Surface 3 hybrid
1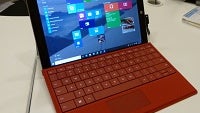 Microsoft has just launched a new update for the
Surface 3
, the tablet-laptop hybrid that the company
launched earlier this month
. The new update is aimed at enterprises, and the main feature that it introduces makes it easier for bussinesses to mass deploy the tablet.
The announcement was made earlier today on the official company blog. Reading between the lines, the new update will bring the Surface 3 up to par in terms of enterprise-level features with its more powerful (and much more expensive) brother, the Surface Pro 3.
When Microsoft launched the Surface 3, many considered it to be an attempt at tackling the content-consumption market, and not a cheaper alternative to the business-focused
Surface Pro 3
. However, the new update means that Microsoft has every intention of selling the Surface 3 to anyone who wants it, businesses customers and regular users alike.
The new update for the Surface 3 is not available via Windows Update, meaning that you'll have to manually download and install the driver from the source link below. If you're a regular user with no plans to bring the tablet to work, chances are that you'll have no use for the update, which explains why it's only available through the Windows Download Center.