Marvel Puzzle Quest: Dark Reign hands-on
1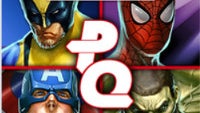 What do you get when you combine the cool super heroes from the Marvel universe with gameplay typically seen in a variety of tile-matching puzzle games (hello Bejeweled)? Well people, you get Marvel Puzzle Quest Dark Reign – from the team over at D3Publisher. Much like the other titles in the same category, this puzzle based game can prove addictive if you're one to love killing time.
Essentially, Marvel Puzzle Quest Dark Reign allows players to assemble a team from Marvel's vast and continuously evolving superhero and villains universe to battle with Puzzle Quest's tried and true gameplay. Interestingly enough, there's a neat story-telling aspect to the game, which throws in some role playing aspects to an otherwise tile-based puzzle game – allowing you to gain character upgrades and enhancements along the way. Heck, they've even managed to encompass us with that comic book experience thanks to the epic story written for the single-player campaign, which is written by Marvel veteran Frank Tieri.
As expected, the game is laid out in that very distinctive jewel puzzle-like layout we're familiar with, but at the top, we have our characters battling each other. Depending on our moves, our characters react to every move we make in the puzzle board. Naturally, there's a strategy element at play here that'll give skilled players the advantage, mainly because specific characters will gain abilities that complement our groups' strategy.
The game is out right now for iOS and Android devices, so you can download it for free and jump straight into the action. Don't forget to check out the video below to see the game in action, though, we'd imagine that many folks are already familiar with this kind of gameplay.