Lost, but not forgotten - Ice Age Village now available for BlackBerry 7
2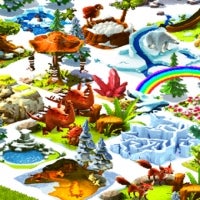 Publisher Gameloft has decided to honor those of you who are still hanging onto your BlackBerry 7 devices with a free game - Ice Age Village. We're not sure how the BB versions of the popular title hold up next to the Android, iOS, or Windows Phone versions. But, at a glance, there aren't very substantial differences between the BB7 and BB10 variants of Ice Age Village. However, according to a user, the graphics may have been downgraded, which is to be expected.
The game is still about building a residence for the creatures of the Ice Age world, including those from the movie series. Leveling up in the game will net you new animal species and building types, and there are many quests, side missions and challenges to occupy your attention.
Watch the game's E3 2012 trailer if you haven't played it, and download it from the link below.
Download Ice Age Village:
BlackBerry
via
CrackBerry