Logitech's POP smart button receives Apple HomeKit integration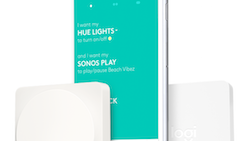 Last year, Logitech released the POP smart button, as part of its mini-expansion into smart home devices. The button resembles a round light switch that integrates with a limited range of multimedia and lighting units, through a native app, and allows you to "pop" simple commands wirelessly. The device does not represent a leap innovation in any kind, with much more diverse home units being cooked by the likes of Amazon, Google, Phillips, etc.
Nonetheless, the POP button is about the get a lot more exciting, as it is receiving integration with Apple's HomeKit platform. Via a hub that you will need to pay extra for. Yeah…
Never mind the extra cash, it seems like you would get decent worth for your buck, as the simple controls of the button might prove quite a hit with Apple's rich Home app features. The button can be programmed to "do things" through three commands – one press, two presses, and a long press. So far, you could pretty much use it just to flip the lights on and off, turn the music on, or control your TV through Logitech's Harmony hub.
With Home app integration, the POP button should be able to communicate with blinders, fans, various sockets, and even open or close your garage door. Apple's software links with a wide and diverse range of IoT-enabled devices, which adds a lot of value to the Logitech's smart button. Not to mention that HomeKit is very much in its infancy, having made a first appearance in September, 2016, and will undoubtedly evolve in the months to come.
The connection with Apple's systems will go through a hub that will be sold exclusively through Apple Store. The "Starter Pack", featuring a single POP button and a hub, will sell at $59, while a single button-only purchase will cost you $40. The button comes in four different colors to match the style of your living space, but colour options are not yet available for the hub, and neither is a release date - we just know that it is "coming soon".