LG Rolling Bot, the headless BB-8, is now up for pre-order
14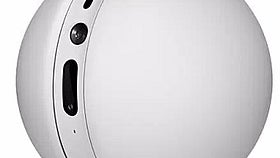 The LG Rolling Bot, a unique smartphone-controlled robot designed with remote surveillance in mind, is now up for pre-order at a price of $250.
Back at MWC 2016 when LG unveiled the new modular G5 smartphone, one of the most interesting accessories for the phone that the manufacturer showed on stage was the LG Rolling Bot, an apparently fun combination between a mobile surveillance camera and a remote control robot.
The Rolling Bot is a two-wheeled white plastic sphere that many have described as BB-8's headless brother. The bot integrates an 8MP camera, a speaker, an IR blaster (very useful for remotely controlling air conditioners) and a laser pointer. Although the LG Rolling Bot was officially announced next to the LG G5, do not mistake the bot for an 'LG G5 Friends' accessory, as this little buddy also works with iPhones and other Android phones.
The integrated camera allows you to remotely check up on other locations, while the two wheels allow users to roll the bot around the house for more detailed checks. Interestingly, the Rolling Bot also comes with a 'Play Mode' designed to keep cats entertained using the integrated laser pointer.
Mobile Fun has the headless BB-8 up for preorder at a price of $249. That's a steep price for a smartphone accessory, but now it's up to users to decide if the Rolling Bot is cool enough to be worth its salt.