Jawbone THOUGHTS app offers audio messaging on the iPhone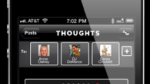 Aliph, the maker of
Jawbone
Bluetooth headsets, has come out with a new audio messaging app for the iPhone. Jawbone THOUGHTS, available free from the App Store, can instantly record quick voice memos, and send them either to individuals or groups.
Travis Bogard, VP of Product Management and Strategy, explains: "THOUGHTS is our solution to integrating all the things we love from text-based communications with the power of voice." Contacts that also have the THOUGHTS app will be able to access messages more quickly, but you can still send them to people without THOUGHTS. Those users will just have to open them as audio attachments in either a text message or email.
Although the app is partially meant to promote their headsets, you can still use THOUGHTS directly on your iPhone, without the use of a
Jawbone headset
. So how will they make money off of this app? Transcription. The app comes with 10 free voice-to-text transcriptions, but the user must purchase more if they want to continue using that part of the service.
The voice message/memo idea is nothing new, but THOUGHTS places them in an quick and easy format. You can manage your groups and messages all from a single screen, so you can multitask your many exchanges like you would with texts, all the while conveying the nuance that only your voice can provide.
source:
Aliph
via
MobileBurn