Is that an iPhone, or is it a…cockroach?
25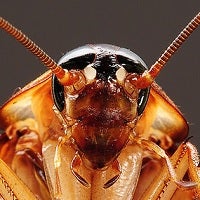 In what is arguably the perfect example of what happens when someone has too much time on their hands, here is yet another iPhone accessory that will find appeal to…well, we don't really know, but strangely we suspect this is going to be a big hit.
In Japan, a well known accessory retailer, Hamee, has the latest and greatest in weird. A huge, and creepy,
iPhone 5/5s
case shaped like a cockroach.
This thing is a giant brown lump of rubbery looking ick shaped like your most loathsome pest, the roach. There is no need to wonder if it actually protects your iPhone, something this
bug
big has to serve some purpose.
However, it won't be much good short of a gag gift since it doesn't even have a cut-out for the camera. Thus, this will serve to scare the daylights out of your siblings or best friend (anything less, and you might end the friendship, whereas, best friends will forgive your attempt to induce a heart attack).
This thing is available in Japan for the equivalent of $30. It's only a matter of time before your favorite specialty shop starts offering them elsewhere.
via:
VR-Zone