India will become the world's second largest smartphone market in 2014, analysts predict
24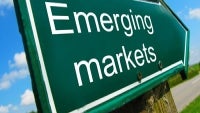 According to a report from The Guardian, based on research data by Mediacells, India will ultimately take the second place from the United States in the Top 10 markets by smartphone sales rank-list. This is largely because India's smartphone-owning population is expected to more than double in 2014, reaching from 156 million to 364 million people from a population of 1.2 billion. And here are the rest of the impressive, and relevant statistics:
Smartphone sales in China, which will retain its number 1 spot, are estimated to reach 283 million, with 216 million going to first-time customers. Meanwhile, smartphones sales in India are estimated to reach 225 million, with 207 million bought by first-timers.
Together, the two emerging markets will record over 500 million sales, and add more than 400 million new users of connected devices. The collective amount of smartphones sold in China and India will account for half of the 1.03 billion devices sold in 47 key countries in total. And the number of mobile internet consumers – also smartphone owners - from developing markets will surpass that of the developed world, growing by a whopping 27 times.
In the USA, smartphone sales are forecast to be 89 million, with first-time users nabbing 47.5 million of those. According to Brad Rees, managing director of Mediacells, the United States is expected to continue adding new smartphone users at an average of 3 million per month – consistent with the past two years. Interestingly, Mr. Rees predicts a rise in interest among customers aged 14 and under, with smartphones from Motorola, Samsung, and LG leading this market segment.
The rest of the Top 10 markets by smartphone sales volume will advance as follows: Brazil (47 million sales, 38.2 million first-timers), Indonesia (46 million sales, 39.8 million first-timers), Russia (31 million sales, 21.4 million first-timers), Japan (30 million sales, 22.9 million first-timers), Mexico (23 million sales, 16.3 million first-timers), Germany (22 million sales, 12.2 million first-timers), France (18.7 million sales, 11.21 million first-timers), and the UK (17.7 million sales, 8.24 million first-timers).