Here's what an eventual 4-inch iPhone 6c would look like next to the iPhone 6s and 6s Plus
20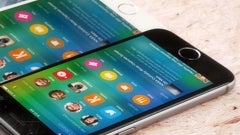 September 9
will be a big day for Apple, as the company is - most likely - going to introduce two new smartphones then:
iPhone 6s
and
iPhone 6s Plus
.
But will we see
only
two new iPhones on that day? Well, for now we can't know for sure, but we do know that rumors about a third new iPhone, possibly dubbed
iPhone 6c
, have been around for quite some time.
Reportedly, the iPhone 6c should feature a 4-inch display, obviously being the successor to 2013's
iPhone 5c
. However, the new 4-inch Apple handset could be made out of metal, not plastic (like the iPhone 5c). With that in mind, designer Martin Hajek tried to envision what the iPhone 6c would look like next to the iPhone 6s and iPhone 6s Plus (which, as you may know, will most probably be very similar to the iPhone 6 and iPhone 6 Plus).
We must keep in mind that an iPhone 6c might not exist at all. Or, if it will, it may be
launched sometime after
the iPhone 6s and iPhone 6s Plus. Still, it's interesting to see what an eventual trio of new iPhones could look like. So check out the gallery below, and let us know if you want Apple to release a new 4-inch handset this year.
source:
Martin Hajek