Here comes the smartphone-connected bike, the Vanhawks Valour
2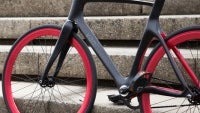 The chronicle of smartphone-connected things has officially expanded to include a bicycle. And what a rider that is! The Vanhawks Valour is a carbon-fiber beast that connects to a smartphone in order to bring improved navigation for both the rider and fellow drivers. Its handlebars feature embedded LEDs that light up as you approach a turn. The bars can also vibrate when you get dangerously close to traffic. The Valour also collects data from other cyclists and your own route, which can be accessed from a smartphone app.
In addition, the Valour is engineered for comfort and ergonomically designed to relieve pressure on your back and spine. It it also equipped with Ergon saddle, pedals, and grips. The bike will weigh about ~16 lbs, which should be "light enough to de-stress any tricky commute". Charging the bike's gadgetry happens through the tried and true front-wheel dynamo hub. We don't know about you, but in our neighbourhood, having one of these was mighty impressive!
The Valour has already reached its Kickstarter funding goal, which means it should be available this November.
source:
Kickstarter
via
Slashgear