Hello Captain Obvious: Survey shows the most popular apps among teens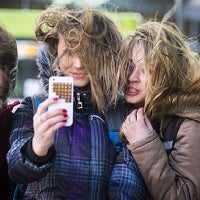 Sometimes it takes a survey to prove that a survey was not needed. In this instance, the popularity of social media amongst teenagers.
Text messaging reigns supreme, but in the social media-sphere, has all the usual players when it comes to what is popular among high-school graduates.
Niche is an online service that gathers ratings and reviews of schools and colleges. It also provides guidance to those looking to pick a college or find information about scholarships. This month, Niche conducted a survey of over 7,000 class of 2014 high-school graduates to see what, and how often they use popular social media applications and access leading services.
The results of the survey will probably not surprise you. Facebook, YouTube, Instagram, Twitter, et al, are all on top. Their rankings may surprise a bit, but it reaffirms many things about the generation surveyed, social media rules while other services that one would think are popular with the younger crowd are not used so much, such as, Reddit, or College Humor to name a couple.
When comes to streaming music, Pandora and iTunes are the most popular. YouTube is more popular than Netflix which should not be surprising since it stands to argue that many high-schoolers are not paying subscribers. Snapchat is by far the most popular messaging app, second only traditional text messaging.
Social media continues to be owned by Facebook and Instagram, followed by Twitter. However, the adoption of services overall is wide, there are no real losers among the popular apps.
Teens and their Social Media
sources:
Niche
via
VentureBeat