Happy 40th birthday, cell phone!
38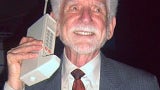 And just like that, the gadget which is nearest and dearest to our hearts here at PhoneArena, the cell phone, has turned 40. It's like it was yesterday when Motorola's Martin Cooper, the father of the cell phone, made that first historical call on April 3, 1973... Well, most of us here don't really remember the day, seeing that we weren't born yet, but hey, it must have been pretty cool!
Imagine that, on that day, Dr. Cooper has picked up the 2.5 pound Motorola DynaTAC 8000x and placed a call to his rival, Joel Engel, who was leading Bell Labs' research department. Both companies have been trying to invent a portable cell phone for some time, and the race was officially ended on April 3, some 40 years ago.
Since then, cellular phones have become on of the most widespread gadgets around the world, transforming from heavy and bulky calling devices to slim and lightweight computers along the way. Today, we're unhappy that our smartphones, which can do many of the things we do on our personal computers, have to be recharged every day or two. Well, imagine that the gigantic DynaTAC 8000x could only offer about 30 minutes of talk-time. Think about that next time you want to complain about battery life!
Now, let us all sing together: Happy birthday to yoou, happy birthday to yoooou, happy birthday, dear cell phooone, happy birthday to yooooou!