Hands-on with the BlackBerry Bold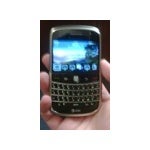 Upon powering the device on, the first thing we noticed was the screen - and let us tell you - gorgeous is an understatement. Few phones that we have used match the screen that is found on the Bold. The keyboard resembles a mix between the Curve and 8800 series, and is quite easy to type on. An improvement can be found in the 'main' buttons; the send, home, back, and end keys are all much larger, thus reducing the chance of accidentally pushing the incorrect key. The unit is preloaded with OS 4.6.0.167, and invokes new features that we found useful. Gone are the days of the bland BlackBerry; the new operating system offers the ability to receive e-mails in HTML format. Finally, one can download images within their e-mail!
Not to be forgotten, the HTML web browser is quite functional, and represents a shift for RIM. Operating on AT&T's 3G network, we found the browser to be an absolute pleasure to use, and fast to boot! Because of the size of the screen, zooming and a bit of scrolling may be required from time to time, however the advantage of an HTML browser on a 3G BlackBerry device outweighs the extra work. On the note of scrolling, the trackball on the Bold is different in the fact that it's not recessed into the device like previous BlackBerry's, thus making it a bit odd to get used to at first.
The only minor frustration that we came across was the durability of the device. As we were getting into the car (four hours after receiving it, nonetheless), the phone accidentally slipped and (while in the case) fell onto the ground. Upon inspection, the minor drop did quite a bit of damage to the chrome sides. BlackBerry's have always been marketed as relatively durable devices, and small accidents such as this make us wonder what would happen if the phone suffered a serious fall.
All in all, the device is a joy to use, and the 3G speeds are a welcome addition to the GSM BlackBerry arena. If you can look past the relatively high price tag, the benefits of this phone are fantastic. We look forward to spending more time with it!
BlackBerry Bold Specifications (AT&T)