HTC working on a buttonless phone?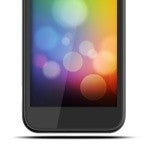 The latest update of HTC Sync might not have brought anything ground-breaking, but one of the users over at Phandroid noticed a
buttonless
Verizon-branded device along with the already announced
HTC ThunderBolt
and
HTC Merge
. While this could well be just a placeholder image, the possibility of a buttonless device running a future version of Android remains open.
Judging from the ear speaker, the
HTC Desire HD
could be somehow connected with the mysterious phone. We aren't sure yet what type of motions should be used for a completely buttonless interface to work, but a set number of physical buttons will no longer be required with the launch of Honeycomb. There is one problem with this theory - the latest version of Android seems to be targetting tablets mostly. With the recent
rumor of upcoming buttonless Apple devices
, however, anything seems possible. What is your opinion on this?
source:
Phandroid