Google's famous "20% time" which created Gmail, GTalk, and Google Sky may be dead
20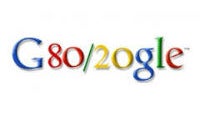 One of the most famous tenets of Google life has been the idea of "20% time", which dictated that 80% of your time working at Google would be spent on company mandated projects, and 20% of the time (or one day out of five) could be used to work on whatever projects you wanted to. The 20% time list of products is pretty impressive, including (most famously) Gmail, AdSense, GTalk, Google Sky, and Google News.
Of course, you may notice that none of those products are especially new, and that may be because Google has been moving away from the idea of 20% time. When Google first started, Larry Page and Sergey Brin described the use of 20% time as a way to keep the company innovating. Unfortunately, employees are finding it harder and harder to find the 20% time in their schedules.
It started with Google implementing a policy where employees would have to request permission to work on a 20% project, but recently it has been reported that Google's higher-ups have begun instructing managers not to approve 20% time requests. Various employees have confirmed this move.
This all could be simply another part of Larry Page's attempt to focus Google. The idea is that rather than have the someone haphazard and unsupervised experimentation of 20% time, Google is pushing more to centralize the experimentation into its Google X Lab, which is where many expect Android's creator
Andy Rubin
is now working.