Google told to move its barge floating in San Francisco Bay
1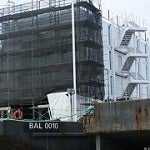 The barge floating in the San Francisco Bay, being built up by Google for purposes unknown for the better part of the past year now is lacking the necessary permits to remain at its current location apparently.
For a while it was thought to be a sales tool, or even a big party platform. Those ideas fell to the wayside lately as current plans indicated it would serve as an interactive platform for people to learn about technology.
Larry Goldzband, executive director of the San Francisco Bay Conservation and Development Commission, has stated that Google needs to move the barge. This statement is on the heels of investigating that neither the city of San Francisco nor the Treasure Island Development Authority sought the required permits from the Conservation and Development Commission which is the prevailing authority for activities in the Bay.
Mr. Goldzband indicated that probably the most painless and least cumbersome solution would be to relocate the barge to a dedicated construction dock, of which there are several throughout the Bay. If the matter is not resolved though, San Francisco and the Treasure Island Development Authority could actually face fines and other enforcement measures.
Work on the barge was halted last year while the Coast Guard investigates seaworthiness. Even when that is completed however, it is highly unlikely that Google will be able to secure the needed permits for work to continue at its current site. Either way, it is looking like the big mystery/party/sales/showcase/education-center barge is going to have to find a new home very soon.
source: AP via
Yahoo! News