Google Play Store now allows all developers to reply to user reviews
13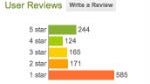 Bad user reviews are the bane of every developer's existence. There is always a solid number of negative reviews that are completely reasonable, but there are also always a fair number of bad reviews that are simply misplaced tech support issues, or just plain trolling. Now, whatever the reason, all developers can reply to reviews in the Play Store.
The feature had been in a limited trial, but it has now been extended to all developers. This should be quite a good thing for devs, who will now be able to let users know when a feature they had wanted becomes available in an app, or deal with the tech support issues that always end up in the review section rather than where they should be.
So, developers will be able to create better relationships with users, and find out about bugs more quickly.