Google Maps gets disaster alerts, warns you about Lindsay Lohan public appearance
7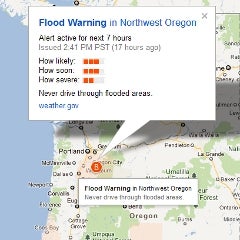 Emergency alerts about natural disasters have been added to Google Maps, and the company uses more than one source of info for the eventual floods, fires, earthquakes, and Lindsay Lohan in the area.
The so-called Google Public Alerts service is subscribed to the National Weather Service, US Geological Survey, and the US National Oceanic and Atmospheric Administration, for a full picture of what might happen where, for how long and with what severity, as well as the likeliness of its occurrence.
Most of the Google Maps emergency alerts are currently only available in the US, but, as with most Google services, they will probably start rolling out to different countries later on. For now we are still only seeing earthquake warnings for the rest of the world being rolled in.
source:
Google
via
PCMag