Google Home can now play your stored or purchased music on Play Music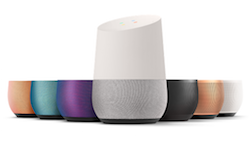 Google Home owners around the globe are starting to get an update that allows them to play tracks purchased on or uploaded to Google Play Music. The update should be quite welcomed by many of us, who have kept and gathered collections of songs through the years, as you can now stream them on the Home device, just like on-demand tracks for subscribers or free radio plays.
Google Play Music allows you to store up to 50,000 songs in its cloud that could be streamed "anywhere for free". Well, up until recently, "anywhere" did not include Google's own smart speaker – all the irony, we know!
The feature gives priority to uploaded or purchased content over tracks on the radio station, when you ask Google Assistant to play you a given song, album or artist. However, subscription on-demand songs would be chosen before your stored tracks, unless you specifically asked Google to play a given track from your library – "Google, play X from my library", for example.
The feature is not available when asking Google to play a song by genre, mood or activity. If you asked it to play you a sad song, let's say, it would still pull from on-demand playlists or put on a free radio mix, and would not dig into your purchases or uploads. But we can definitely live with that.
If Play Music is not set as the default player on your Google Home, you'd need to explicitly ask it to play the track on Google Play Music – something along the lines of "Play X on Google Play Music" – if you want to listen to on-demand or uploaded tracks.
The feature is currently rolling out across regions around the globe and should soon be live in the countries, where Google Home is supported.
source:
Google