Giant iPad "Air Plus" design details leaked
42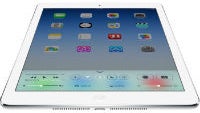 At this point, it can't really be said that it is a rumor that Apple is working on an extra large iPad. The rumors have been consistent enough that it is relatively certain that such a product is in the works; but, the details about the device are still mostly unknown. That may be changing with a new report about the larger tablet, which we had been calling the iPad Pro, but might actually be called the iPad Air Plus given the name of the larger iPhone.
Apparently, the January issue of the Japanese version of
MacFan
has published a leaked blueprint for Apple's larger iPad. The blueprint claims that the larger iPad will have dimensions of 305.31 x 220.8 x 7 mm (12 x 8.7 x .28 inches). For comparison, the 12.2-inch Samsung Galaxy Note/Tab Pro is 295.6 x 203.9 x 7.95 mm (11.6 x 8 x .31 inches), so the size of Apple's device would be big enough to house a 12.2-inch display and the iconic home button with TouchID fingerprint scanner.
The report also mentions the A9 processor, but that could easily be considered an educated guess rather than being based on verifiable information. However, there is also a very interesting setup of "four built in speakers on each edge of case, in order to play stereo sound, even if iPad rotated" [sic]. That could be pretty cool. The real question, though, is whether Apple will be updating iOS to take advantage of the larger display.