GTA: Chinatown Wars and Beaterator games coming to the iPhone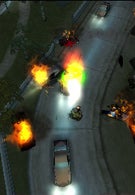 Rockstar Games has officially announced that two new game titles will become available to millions of iPhone and iPod touch owners this fall. The first is Grand Theft Auto: Chinatown Wars and there is no way you haven´t heard of it if you happen to be a gamer, no matter your hardware platform preference. The game looks pretty good on the PSP as you can see for yourself in the pictures below the text and we hope the version tailored to Apple-made devices will be as good as the one developed for the portable Sony console.

You can see videos showing off the gameplay of GTA: Chinatown Wars for Nintendo DS here.
Beaterator is a game that music lovers and creative people will surely enjoy. It will allow you to produce your own music using thousands of audio samples created by Rockstar Games in partnership with Mr. Timbaland. If you feel like getting a better idea of what the app is all about, please, take a look at video, embedded below. 

source: Rockstar Games, more via Bussinesswire, more