Facebook's News Feed redesign is "mobile-inspired" (we think "Google+ inspired")
7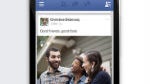 Facebook promised an announcement about the News Feed and it has come through. The Facebook News Feed has been completely redesigned, and the new UI is said to be "mobile-inspired". Even better,
Facebook is moving towards a responsive design that will look familiar no matter what type of device you're using
.
When you look at the new UI for the Facebook News Feed, you may not think "mobile-inspired" at first. Rather, you may think "Google+ inspired", because the new redesign takes a couple cues from Google+:
it features images much more prominently in the Feed, and the best part is that it is clean
. Facebook had become a mess of information overload, but the redesign groups content together better and doesn't try to show you too much at a time.
The redesign is also looking to push more content to you that you may want to see, even if it hasn't been shared by friends, by using your Likes as the basis for recommendations. The navigation bar on the left brings you to different sections of Facebook, and when you're in the News Feed, links come up on the top right to filter your friends' posts by subjects like games, photos, music, etc.
You can sign up to get the redesign pushed to you first, otherwise Facebook is going on a "careful and slow" rollout. Because, as we all know, any change to Facebook causes a huge uproar of people who hate change. Web users could see the change as soon as today, iOS will get the rollout in a few weeks, and of course Facebook is leaving Android until last for some reason.
Recommended Stories