Cycloramic takes a 360-degree video shot with your iPhone 5 automatically
19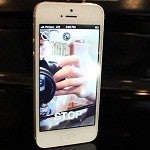 iOS 6 brought panoramic photo capture ability to the iPhone, it works more or less the same as other panoramic interfaces found on other smartphones.
Cycloramic allows you to take a 360-degree video shot without the need for any tools, or a tripod, or anything, just a smooth surface to stand an iPhone 5 on. The app makes use of the iPhone 5 vibrating motor to literally rotate the device while it makes a video recording. The only requirement is that the surface must be really hard and smooth, like a granite counter-top or glass. A dining room table seems to work okay, but perhaps the device does not spin quickly enough.
The app was released just before Christmas and since it is at version 1.0, there is room for growth. Right now the app only shoots video and the rotate feature works only with the iPhone 5. The app will shoot one, tow or three complete turns of video (360-degrees, 720-degrees or 1,080-degrees). The developer, Egos Ventures, will be updating the app to enable use of the panoramic photo feature, as well as bring "auto-rotate" compatibility to the iPhone 4/4S.
This app would come in pretty handy to have it take a shot of the whole family while it is seated at the dinner table for a holiday feast or something. Cycloramic is $0.99 on
iTunes
.
via:
ZDNet