Critical iOS 7 flaw lets people bypass the lockscreen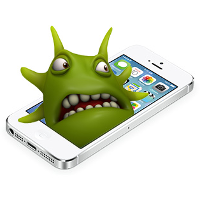 iOS 7 has arrived, and while the changes it brought with it are plentiful and for the better, it turns out that it also introduced a bug or two, one of which particularly critical.
An iOS 7 user has posted a video showcasing how anyone (and we tested this for ourselves, too) can bypass the lockscreen security check on any iDevice sporting the new software. While it doesn't give access to the entire system, it allows one to access certain parts of the system.
So, how does it work exactly? Essentially, it works by accessing the Control Center from the lockscreen (on by default), and then firing up the camera from the quick toggle. After you've done that, you go back and fire up the Alarm clock and long-press the power key as if you want to shutdown the device. Just as you hit cancel, you have to double tap the Home button, and you'll be introduced to iOS 7's new multi-tasking menu. As you can see in the video below, it doesn't let you access apps that were running in the background from your last session, though you can go into the camera roll and go ahead and share a photo on say, Twitter. This results in you gaining access to somebody's social media profile, so it's obviously kind of a big deal.
We should note that Apple has already reached out and commented that it is aware of the issue and that a fix will be delivered in "future software update". While it's definitely a good thing to see Cupertino acknowledging the problem, we sure would have liked to hear something a bit more specific.
In the mean time, if this vulnerability bothers you, the way to secure your device would involve simply disabling the Control Center from the lockscreen by going into Settings > Control Center and toggling off the "Access on Lock Screen" radio button. Not an optimal solution, but it'll have to do for the time being
source:
AllThingsD