Cringeworthy: Samsung raps in its latest sustainability report
6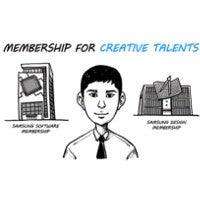 We keep an eye out on Samsung's PR arm, Samsung Tomorrow, pretty much all the time, and that perseverance occasionally pays off. Just last night we stumbled upon what honestly seemed like a boring new video about the company's latest sustainability report, but that was just the surface. After putting it off for hours, we finally decided to give it a look, and, boy, was it worth it.
Have you ever watched something that's cringeworthy enough for you to feel kind of embarrassed just watching it? We definitely had that whilst going through the one and a half minute-long rap video that glosses over the many aspects of Samsung's internal sustainability programs. You honestly need to hear this – and heart it now, for Samsung already took down the original video (big surprise) and it might be only a matter of time until they go after re-uploads.
By the way, this isn't the first time as bizarre a PR piece comes out of Samsung recently. Just last week, Samsung published another one of those (again as part of its 2014 Sustainability report), focused on Samsung's social contributions globally with only a marginally better outcome.
Take a look.