Cheat this! New benchmark claims to have solved cheating, pits the Galaxy S4 with the HTC One
44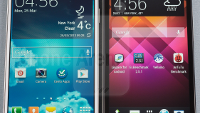 Buying a new smartphone is usually a joyous occasion (even for non-nerds), so much so that most of us usually forget that the industry is downright ruthless. The battle for dominion continues to rage on, as OEMs from around the globe battle it out on fields as diverse as the Amazon rainforrest.
Sure, gimmicks sell, and potential customers do get hooked every now and then, but nothing says dominance as much as having the speediest device. This has given rise to what until recently was exclusive to the PC stage – 'optimizations' for benchmarks, though we call it downright cheating. This is actually
so predominant
that chances are that
your current smartphone
is selectively boosting its internal clocks to prime it up during benchmarks, whereas it may actually struggle under other circumstances. So, while we're able to call them off, we aren't exactly able to prevent them. Until now, supposedly...
A new benchmark is in town, called GameBench. The good folks behind it reportedly all hail from the chipmaking industry, so we suppose they do know a thing or two about such 'optimizations' and how to prevent them. The new authors of the benchmark (not yet available on the Play Store, don't bother just yet) claim it's "uncheatable", and they have already pitted the HTC One with the Samsung Galaxy S4 – two devices with otherwise identical hardware and scores on conventional benchies. Unlike those last ones, however, GameBench will run in the background while you play a real game title off the Play Store, taking multiple measurements of both performance and battery drain. Put even simpler, devices get rewarded for high frame rate and penalized for quick juice drain.
Going back to the two flagships, GameBench actually ran them through four of some of the most popular games right now, all the while scribbling down their performance. Surprisingly, while Sammy took most of the heat for cheating, it actually still managed to snatch a decisive win against HTC's One. This is actually more meaningful than some may realize, as we otherwise consider these two to be equals in terms of how they handle load, despite the fact that the S4 has a bit of a hand over the One, thanks to its slightly higher-clocked Snapdragon 600.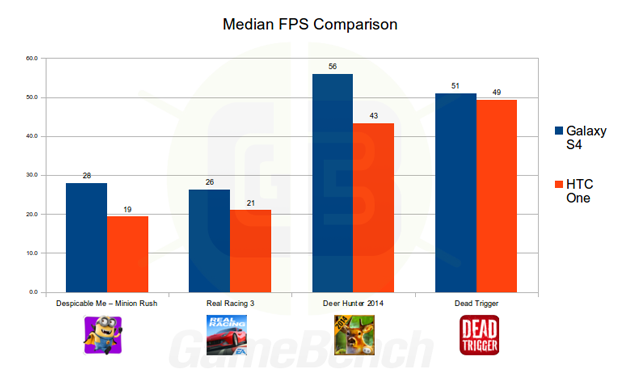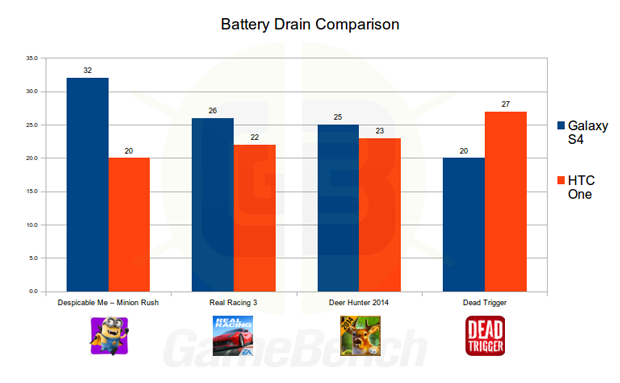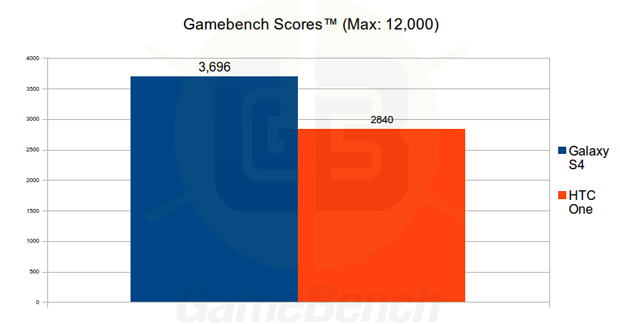 Sure, these are not absolutely conclusive, but it's nice to see that there's some headway made in this direction. Of course, gaming is only a single aspect of the total experience, but it is admittedly by far the most taxing one, making it perfect for actually gauging what your device will look like under heavy load.