Cellular South to build 4G LTE network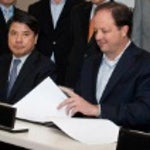 Just because it is a regional carrier doesn't mean that Cellular South can't build a 4G network. In conjunction with Samsung, Cellular South will be working on an LTE pipeline which should be done in the fourth quarter of 2011, about the same time that Samsung will be launching two 4G handsets for the network. Actually, the phones are dual-mode models which should work on both 4G (using voice over LTE in the 700MHz spectrum) and 3G (using the carrier's current EV-DO 3G network).
Hu Meena, President and CEO of the carrier, was quoted in a preparted statement. "Our move to 4G is driven by our vision of creating an unmatched experience and enabling our customers to experience pervasive wireless Internet connectivity and mobility. Cellular South is pleased to partner with Samsung Mobile on an LTE solution that uses our entire spectrum in the lower 700 MHz band. This network will deliver a first-class LTE experience to our customers who want the freedom to access content and services and to communicate in new and innovative ways, whether it's viewing video, browsing the mobile web, listening to their favorite music, gaming or social media."
source:
CellularSouth